Protection of Lawful Commerce in Arms Act Passes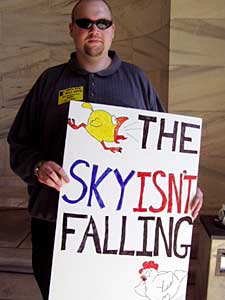 Congress voted today to shield gunmakers from lawsuits if their products are used to harm a person. President Bush is expected to sign this bill into law. Under this legislation, about 20 pending lawsuits by local against the gun industry will be dismissed. The US Senate passed the bill in July. The MSM is already bleating that there was a groundswell of public opinion against this legislation. In reality, the recent events in New Orleans made many people painfully aware of the need to own a firearm. "Americans saw a complete collapse of the government's ability to protect them," said Wayne LaPierre of the NRA. "That burnt in, those pictures of people standing there defending their lives and defending their property and their family, where the one source of comfort was a firearm."
The seed for this Congressional Bill was young Brandon Maxfield, and a whole host of lawyers smelling blood and money. Brandon Maxfield was shot in 1994, leaving him a quadriplegic at age 7. A family friend was unloading a Bryco Model 38 semiautomatic pistol when it discharged, firing a round into Brandon's face. He and his family won $51 million in June 2003 after a two-year legal battle against Bryco. Oddly, Maxfield attempted to buy Bryco in 2004. Maxfield's final bid of $505,000 to buy Bryco Arms, one of the nation's leading makers of inexpensive guns for poor people, fell short. He had wanted to acquire the company in order to shut it down. I note that Mr. Maxfield's anti-gun website, Brandons Arms.org is no longer online.
While we are sympathetic to the plight of people like Brandon, we recognize that personal responsibility plays a huge role in adult activities like driving automobiles, handling firearms, and yes, in filing lawsuits. Even a Bryco pistol is a good gun to the man who needs a gun. It is better than nothing. If you want a better gun, buy a better gun. If you want a safer gun, buy a safer gun. If you don't know what is better or safer, educate yourself. That is called personal responsibility. That is called adulthood.
Labels: Gun Advocacy, Politics